Join the NKUZI STEM movement today and be a part of the journey towards a more diverse and inclusive tech industry. Every contribution, no matter how small, can make a significant difference.
Kasala App, developed by Rector Cares Foundation in partnership with Stand To End Rape Initiative, serves as a dedicated platform providing support for individuals facing instances of sexual assault, rape, gender-based violence, kidnapping, and related violent incidents.
We aim to connect 50 million people with basic sanitation services by 2030. With your support, we can ensure that every home, school, healthcare facility and community have lasting access to safe water, improved sanitation, and efficient hygiene services.
OUR STORY
We are a non-governmental organization focused on empowering communities in Nigeria with clean and safe water. We design and execute sustainable solutions to improve access to clean and safe water, as we enable men, women, and children to unlock better opportunities – based on the United Nation's Sustainable Development Goal (SDG) 6.
Nigeria has the largest population in Africa. The current population of Nigeria is estimated at over 200 million and is predicted to reach over 400 million by 2050. Hence, we adopt a system-strengthening approach to our project roadmap, as we implement feasible strategies for the development of water, sanitation, and hygiene (WASH) solutions in communities.
Our efforts extend to STEM projects, as well as addressing issues related to rape and gender-based violence.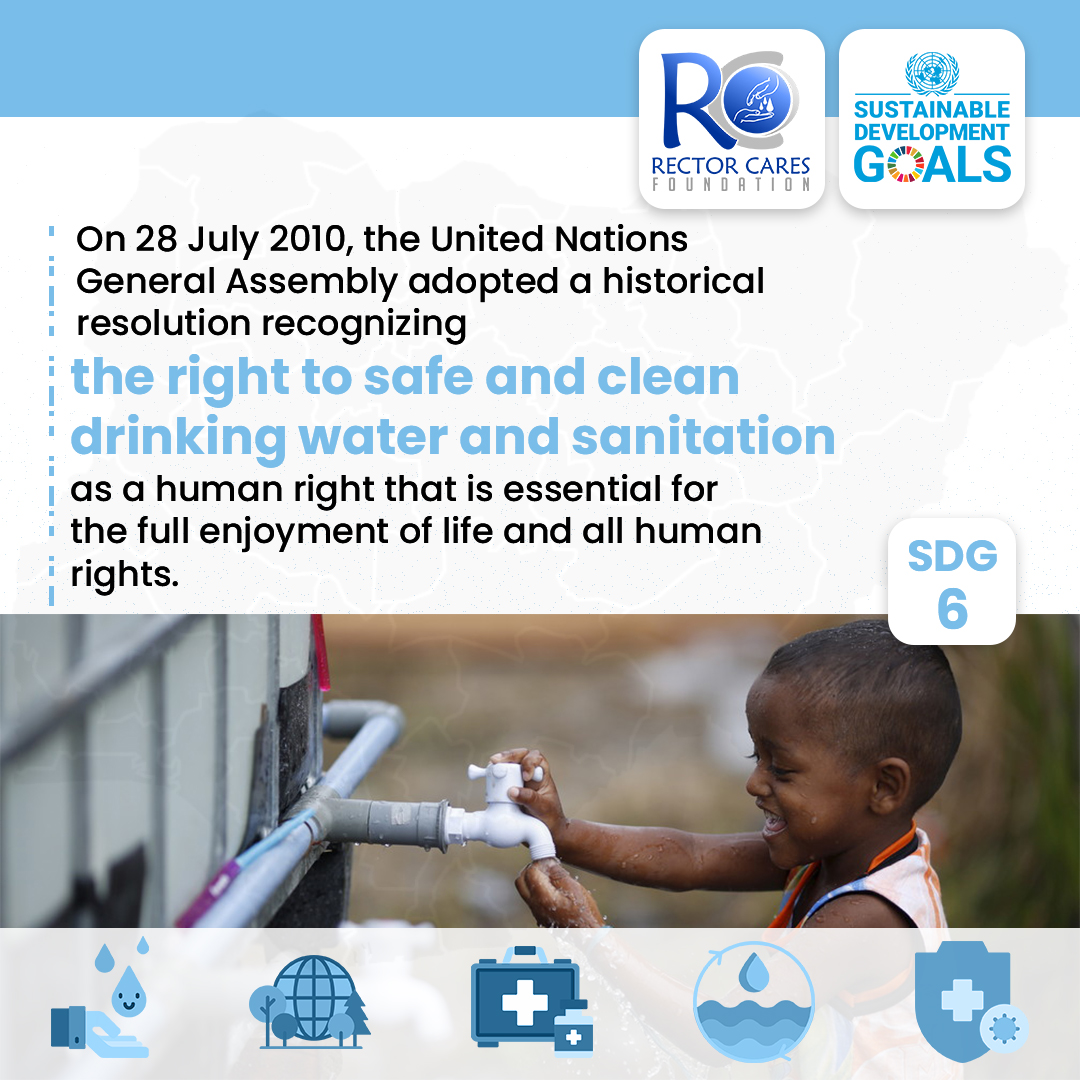 Our Vision & Mission
We believe unhindered access to clean and safe water will break the cycle of poverty in Africa. Hence, we focus on making water safe, accessible and cost-effective, as we deliver clean and safe water to unserved and underserved communities in Nigeria.
We envision a day when everyone will have access to safe water and improved sanitation. Increasing available funds for water and sanitation is imperative to ending the global water crisis and creating a bright future for everyone.
The time is now.
Together, we can end water poverty in Nigeria.
Our Approach
At Rector Cares Foundation, we work with unserved and underserved communities in Nigeria. We also engage with government organisations and stakeholders to champion inclusive education and combat water poverty in Nigeria.
We provide water systems in our partner communities, as designed by our team of technical experts and funded by our local and global network of donors. Our water projects are currently implemented in communities located in Nigeria, though we collaborate with individuals and organisations outside Nigeria.